How does being involved in communities add purpose and joy into our lives? From connection and learning, to recognition and contribution, there are several meaningful impacts one can experience through this type of collaboration. Before we get into the benefits of communities and how this relates to our Picas Users, let's first reflect on what community means. By definition, a community can be a feeling of fellowship with others, as a result of sharing interests and goals. Because communities can be ever evolving you may wonder, what does this presently look like? The answer is simple- through online communities.
According to the GlobalWebIndex, data shows that in 2019, 83% of global internet users regularly share online content such as photos, videos, and product reviews. From this data, we can assume the majority of people with access to internet interact or contribute in some way to an online platform. Given this statistic, if we revisit our definition of community, this data directly relates to the desire for sharing interests and goals. However, what about the need for fellowship and connection? In a separate study, when asked why one would participate in groups and communities online, nearly 80% of respondents expressed their interest to help others by sharing information, ideas and experiences. Additionally, approximately 66% of those asked wanted to participate in a professional community of colleagues and peers.
Within communities, most members participation involves an exchange of experiences, thus building connection and camaraderie. However, just as within friend groups, families, or any community where one feels a sense of belonging, a healthy community also prioritizes trust and support. By creating spaces where open dialogue is encouraged, people can deepen their understanding on a specific topic, work together to address challenges, and find support to help navigate questions and situations.
At The Picas Group, one of our foundational values is collaboration. We value each other's opinions and input when working with each other, across departments, as well as directly with our customers. It is through the exchange of experiences, ideas, and goals, that Picas has evolved and continues to evolve and contribute to the success of its users. This is the backbone of our "customer driven software".
We now introduce you to our newly launched, Picas Community!
What is Picas Community?
An online forum where Picas users can easily connect and communicate with other greenhouse growers in the industry who hold similar interests. Within Picas Community, Picas users can discuss process improvements with one another, share ideas, and ask questions.
The Picas Community Online Forum:
Engage with other growers in the industry that are using Picas Software
Focus Groups to discuss specific greenhouse topics
Updates from The Picas Group
Direct messaging to other Picas growers
What are the objectives of the Picas Community?
To gain knowledge from other talented growers who have experience both within Picas as well as within the industry.
To create a communal aspect of being a member of the Picas Group, and be able to learn from other growers running the same software with similar interests as you and your team.
To provide a space to ask questions, learn, teach, and navigate day-to-day challenges of the Horticulture industry with a group of growers.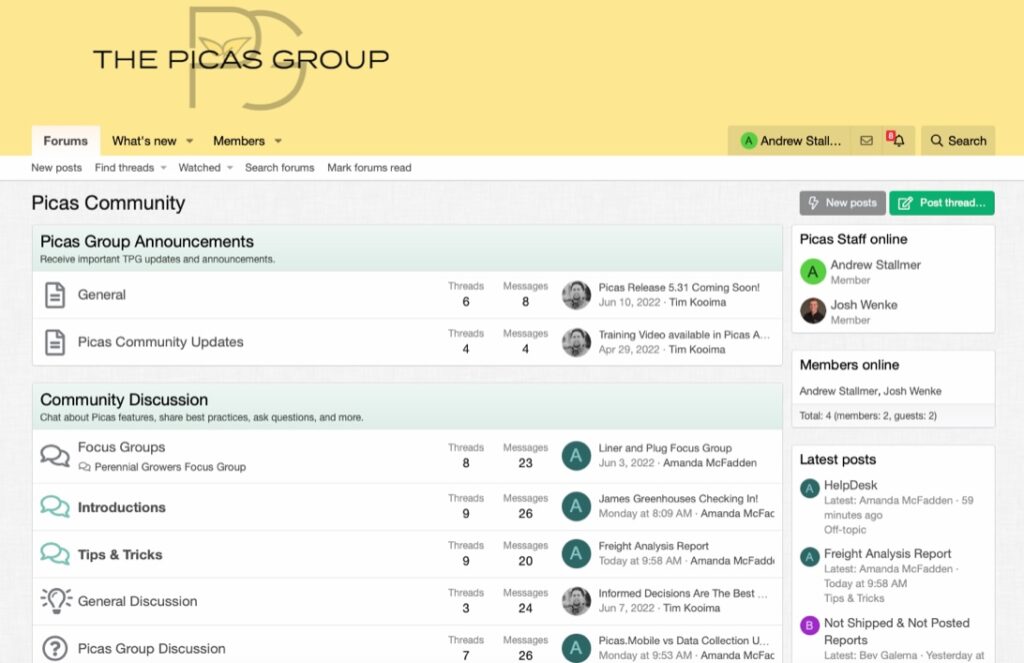 We believe there is benefit in offering a space where growers can communicate with one another and share best practices. Picas Community allows each of our customers to take advantage of Picas in the most effective way. From Focus Groups and General Discussions, to Tips and Tricks and Picas Updates, there are many opportunities for learning and connecting.
We look forward to seeing you there!