When you think of botanical gardens, what comes to mind? Perhaps a local garden, or one you have seen or heard of while traveling, or even a specific well-known garden comes to mind such as Kew Gardens in England (also noted on this list). There are many aspects of these gardens that are similar to one another, though, some might say that beauty is most admired when learning what makes something different, or unique.
Together, let's dive into some of the world's most famous botanical gardens, as well as those that may be lesser-known but left just as much of an impact, if not even more.
Chicago Botanic Garden
The Chicago Botanic Gardens is one of the United State's most visited botanic gardens with nearly 50,000 active memberships and over a million visits yearly. Covering 385 acres, spanning nine islands and six miles of lakeshore, this garden has a lot to offer its guests. While visiting, guests can take sight to a wide variety of trees, an ancient display of Japanese horticulture cultivated by bonsai master Susumu Nakamura, a fruit and vegetable garden, and a 100-acre native oak woodland. The garden is also one of only 17 public gardens accredited by the American Association of Museums. Not only is this garden open to the public to experience, it also offers nine laboratories for scientists and graduates who study and conduct plant research onsite.
Desert Botanical Garden, Phoenix
In the 1930's, a small group of residents became interested in conserving their desert surroundings. Through this effort they formed a group known as the Arizona Cactus and Native Flora Society, and shortly thereafter established the site for which the Desert Botanical Garden is now located. This garden offers a sense of authenticity, protection, and uniqueness that is often felt and appreciated from those who visit. The Desert Botanical Garden has more than 50,000 plants, one-third of which are native to the area, including 379 species that are either rare, threatened or endangered. Along paved paths, guests will walk alongside a large variety of agave plants, cacti, succulents, and wildflowers. Several ecosystems are also present including: a mesquite bosque, upland chaparral, and semi-desert grasslands.
The Gardens of Versailles, France
Where luxury, perfection, beauty and political symbolism synchronize, is that of the Gardens of Versailles. Perhaps one of the most recognizable gardens in the world, and rightfully so, the Versailles garden was built upon request from King Louis XIV in the 17th century. Throughout its 250-acres are paths leading to flower beds, ornamental lakes, and a canal that was often used by the king himself for gondola rides. Versailles embodies the country's drastic change to centralized government, and the king's absolute power. The creation of the garden took over 40 years to build, with thousands of workers, and even the entire regiments from the military at times. In order to maintain its meticulous geometric shape and design, the garden needs to be replanted approximately every 100 years. It's no wonder this UNESCO World Heritage site gets over six million visitors a year- it's filled with history, wonder and awe.
Kew Gardens, England
Get ready to be amazed by this garden… The Kew Gardens houses the "largest and most diverse botanical and mycological collections in the world". This UNESCO World Heritage site includes more than 50,000 living plant species, over 8.5 million preserved plant and fungal specimens, and the greatest biosphere on the planet. Here guests have the opportunity to explore 330-acres of gardens, botanical glasshouses filled with tropical plants, rose gardens, and a conservatory containing 10 internal climate zones including a rainforest canopy walkway. In addition to the beauty and diversity the Kew Gardens present, there are iconic architectural designs throughout. In the 1760's, the famous Temple Aeolus was built at the entrance of the Forest Garden in tribute to Aeolus, the mythological king of Wind.
The Butchart Gardens – Victoria, British Columbia, Canada
Looking for the perfect place to sip tea, or eat a delicious meal while taking in picturesque views? Well, Butchart Gardens may just be the spot (no really, they have two restaurants on site and a coffee shop, all with amazing views). What was once land used by a cement company, was transformed in 1912 to a 135-acre garden filled with floral displays, and over 700 varieties of plants. The Butchart Gardens is one of Canada's most beautiful sites to visit and has been designated a National Historic Site of Canada.
Sítio Roberto Burle Marx, Rio de Janeiro, Brazil
The underdog of landscaping and design, and the site that started it all. The Roberto Burle Marx garden absolutely deserves two photos to showcase just how it's extraordinary beauty and innovative design transformed twentieth-century landscape and plant conservation forever. In 1949, artist and landscape architect Roberto Burle Marx, acquired the garden's future site located on the outskirts of Rio de Janeiro. Roberto began collecting and cultivating plants around his home, and the rainforest. At the beginning of the 20th century, many gardens in Brazil imported European species, and resembled European design. Native plants within the country were viewed as weeds by wealthier classes, thus demonstrating broader issues of diversity and social divide. Unlike others at the time, Roberto began investing in the preservation of surrounding land and jungles and cultivating these plants on the property. Roberto achieved what others had not yet done in landscape architecture which involved not only creating beauty, but community, and thus shaping a national identity. When visiting the Roberto Burle Marx, guests will notice colorful pavement designs, open spaces for gathering, and designs influenced by cubism, abstractionism, and Brazilian folk art. The plants themselves serve as natural sculptures, as Roberto understood the plant's natural shapes and used this when envisioning and creating the space. During his career, Roberto pioneered modern designed gardens with a profound message regarding the importance of environmental and cultural preservation. Because of this, the site was inscribed on the UNESCO World Heritage list in 2021, and is the first modern tropical garden on the list.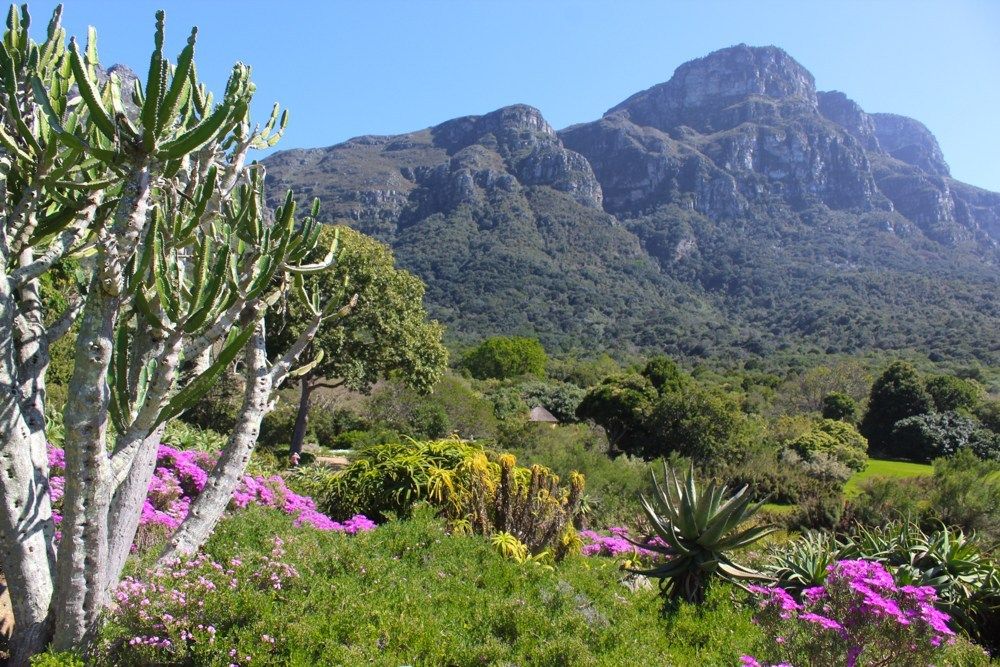 Kirstenbosch National Botanical Garden, Cape Town, Africa
Recognized as one of the most beautiful botanical gardens in the world, the Kirstenbosch National Botanical Garden was founded in 1913 in an effort to promote and preserve the diverse flora native to the South African region. At the time, it was the first garden in the world created with intention to preserve its surroundings. Guests visiting this botanical garden can enjoy its unique beauty, sighting its collection of rare and endangered species. Throughout the area, there are more than 7,000 plant species, a diverse bird population, and even a Braille Trail where visitors who are vision impaired can feel the trees and plants.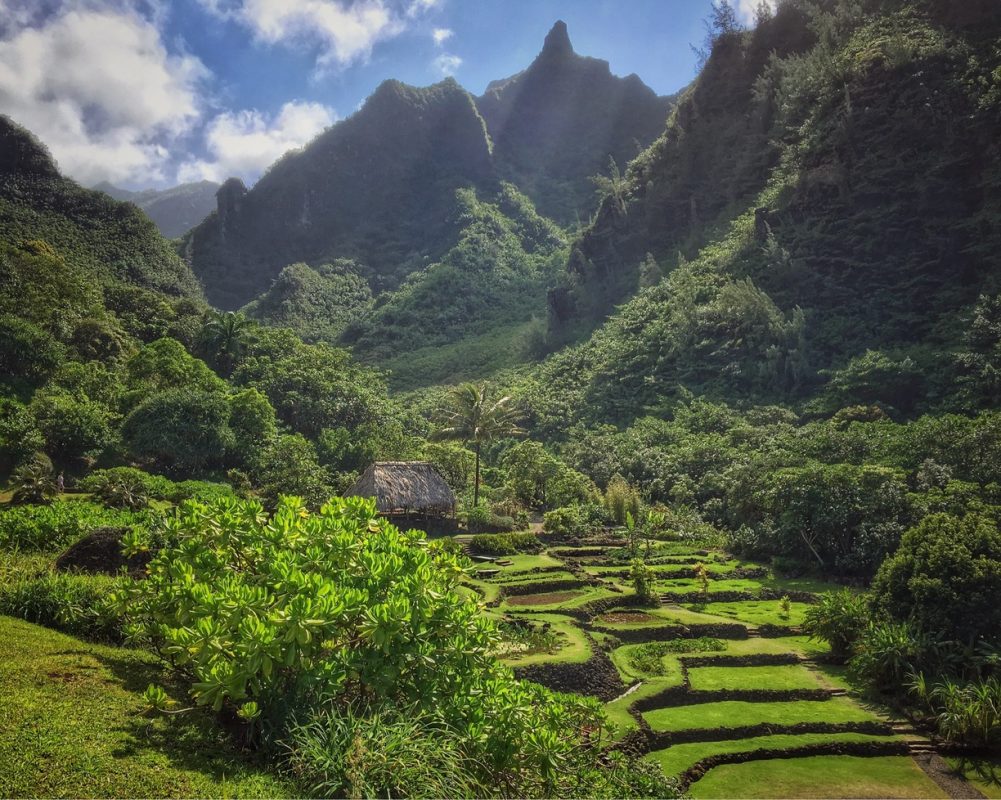 Limahuli Garden and Preserve, Kauai, HI
Located on the north shore of Kauai, is the 1,000-acre garden, nestled between mountains and rainforests. Opening in 1995 to the public, Limahuli Garden was rated by the American Horticultural Society as the best natural botanical garden in the United States. The area is home to dozens of endangered plants and birds found nowhere else on earth. Among these endangered, are native and culturally-significant species in the authentic Hawaiian landscape. Those that care for the garden have adapted ancestral practices to address contemporary conservation challenges in effort to restore the health and resilience of the valley. For at least 1,500 years, the Limahuli Valley has been a Hawaiian place, and is one of the last accessible valleys with native plants, complex systems, and the presence of its descendants.