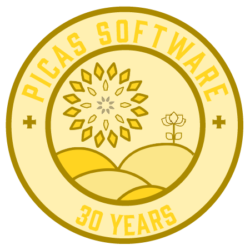 October 27 | Grand Rapids, MI
As many of you know, we are celebrating our 30th year of business as a software provider for the horticulture industry. What started in 1991 with John and a couple of employees working out of a small office in a greenhouse, has grown into a team of 28 staff members servicing growing operations throughout the U.S., Canada, and Australia. We are proud of the journey we've been on, and look forward to many more great years ahead.
We wouldn't be where we are today without our customers and partners who continuously challenge and push us to be the best, to offer the most robust solutions, and make us think outside of the box. We can't thank them enough for their continued support over the last 30 years. We promise to keep making their success our number one priority.
In honor of 30 years together, we invite you to join us for the celebration of the year! Dinner and entertainment will be provided, as well as plenty of opportunity to network, make some new friends, and enjoy the evening together. We are very excited for this portion of the Users' Conference and hope to see you there! (RSVP Required)
* You can choose to RSVP when you register for the conference.
At this year's conference, we will focus on how we can better serve you and the industry. We will provide a review of our recently added features and partnerships, while sharing your collective ideas for upcoming changes in Picas. Users and staff will discuss best practices for particular Picas processes, how to navigate labor shortages, and see the latest in Picas functionality. Attendees will leave the event with a better understanding of Picas is directly related to their roles.
The Picas Users' Conference is a great time to network with other Picas users, discover how they are using their system and learn from their experiences to boost your own skill set. There will be plenty of opportunities to mingle and network with Picas staff throughout the conference. You will be able to ask questions, discuss ideas for the future, and get to know each other better!
With focusing on the future of Picas software, we will discuss how our vision can better align with our customers' visions. We will open up opportunities for you to share what you like about Picas, changes you would like to see, discuss new functionality that could be added to the system, and share success stories.
Work hard, play harder! We have a wide variety of exciting restaurants in downtown Grand Rapids to visit at lunchtime and in the evenings. On Wednesday night we invite you to join us for dinner and entertainment at H.O.M.E. at The B.O.B., a fun restaurant within walking distance of the conference venue and hotel. This year we will be having Brena, West Michigan's Premier Party Band, play. You won't want to miss it!
Registration Now Open
Click Below to Register