This past July, we sent a robust team of exceptional individuals from every department here at ISS to the Cultivate Conference in Columbus, OH – some for the first time, and some who are seasoned veterans! We have been attending Cultivate for over 20 years, and it is a highlight for our team each year. We decided to spice things up a little bit this year, and with a little creative brainstorming, we were able to give our booth a fresh new look! This space was then used to meet with current and perspective customers, as well as the curious passersby. A special shout out to Nimlok here in Grand Rapids for helping us with the gorgeous backdrop!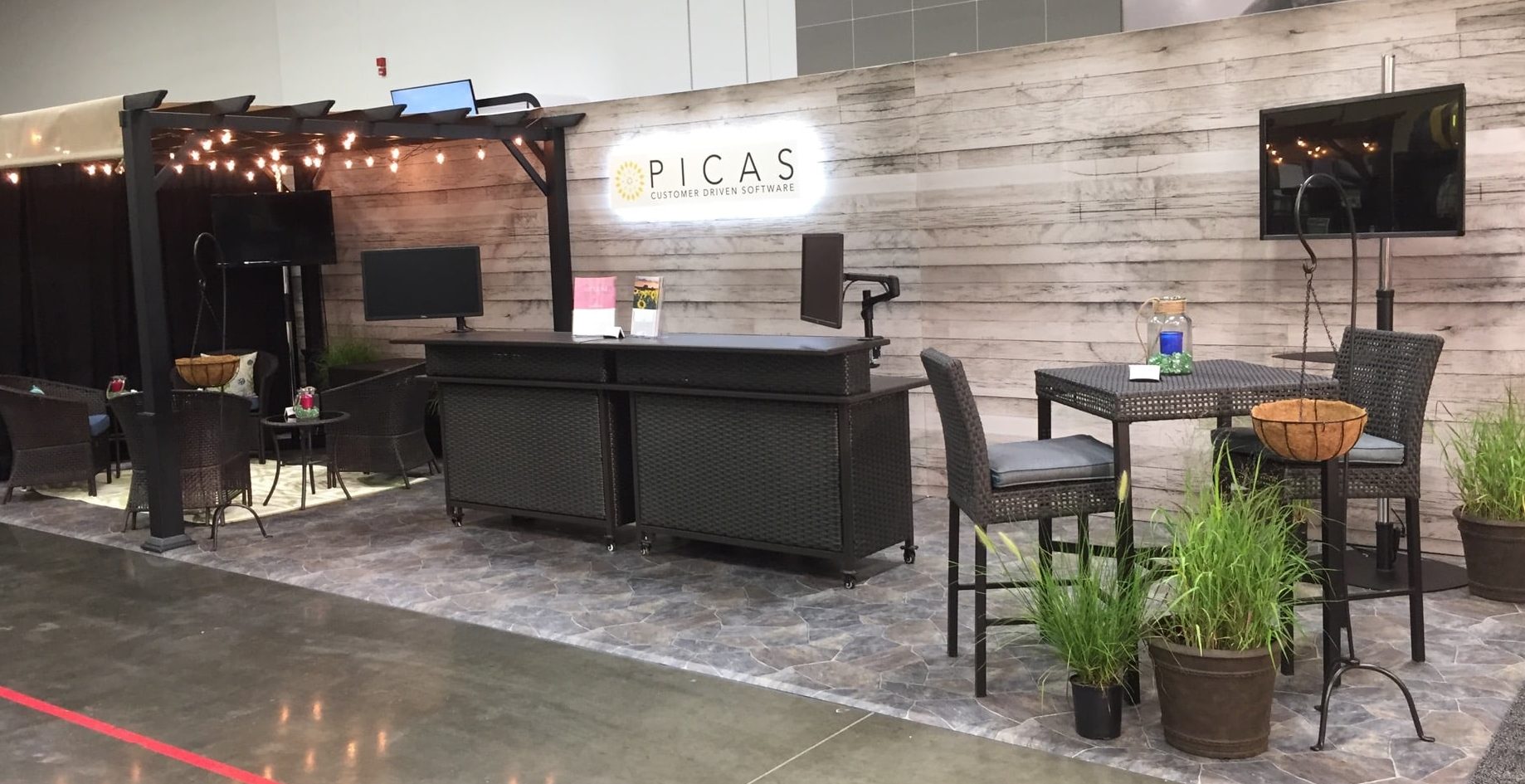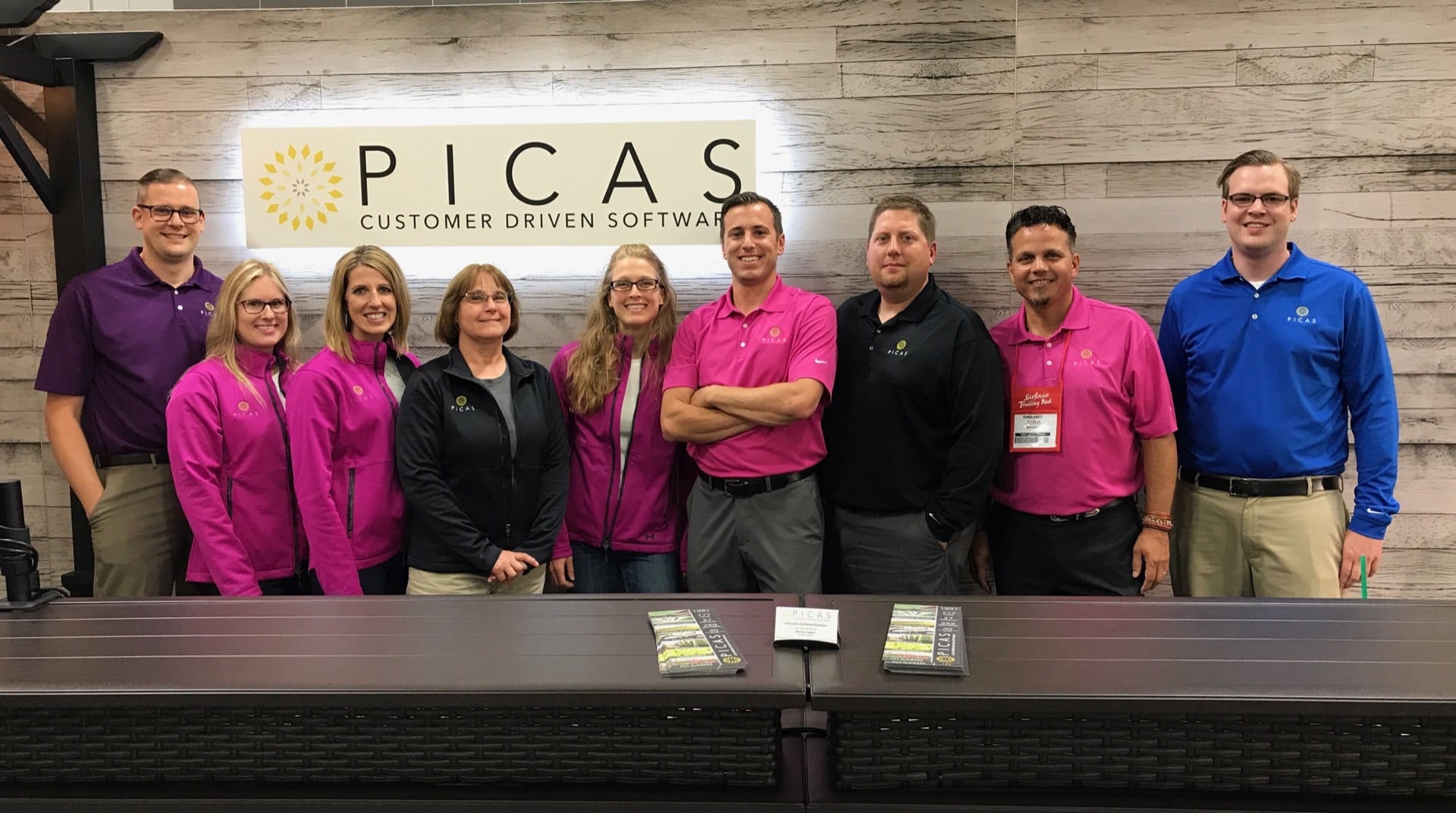 Here are some of the highlights from members of the team that went down this year! We would also love to hear some of your highlights in the comment section below!
Mitchell (Consultant): Enjoyed talking with customers about the advances that are right on the horizon for us. Two such advancements are with the ISO Model 2500 robotic arm and the Visser AutoStix machine, and how we intend to integrate them with Picas.
Adam (Consultant): Loved catching up with customers! This show offers opportunities to connect on a more personal level, but then also time to demonstrate some of the new things we have been working on, including PicasNext, PicasMobile, and PicasBI.
Ben (Application Support Specialist): As a new employee, his highlight was getting to put a face to many of the customers he communicates with from the office. He was also able to learn more about the industry and enjoyed the time to get to know his coworkers even better!
Tim (Consultant): Appreciated the space created in our new booth that provided better opportunities to both review and plan with existing customers. He also enjoyed the session on Lean Flow for the Dock Supermarket which discussed how to increase productivity through the supermarket concept!
Kari (Operations Coordinator): Being part of the team that executed the implementation of this new booth, she enjoyed seeing it all come together and then utilizing the space to meet with customers.
Michelle (Director of Sales): As one of the masterminds behind the new booth, she too loved seeing it all come together! Being able to use the space for meeting and connecting with current and prospective customers as well as vendors as her highlight as well.
And finally, a note from John (President):
"Another great show. Attendance was good, though it seemed like attendees needed some time to acclimate to the new layout and all of the new booths.  Labor was a hot topic with many that I talked with.  The sticking robots was also something that many brought up in our discussions.  Though I did not get a chance to really walk the show, I greatly enjoyed spending time discussing next steps with existing customers.  It was a great environment to collaborate with customers, suppliers and brokers on ways to increase efficiencies between all parties.
The keynote speaker was a nice addition to the show.  As we were challenged to come up with our word, many in our company resonated with the word grind (continue to grind it out to move forward).  I too felt that this described the hard work that we put into our customers and this industry, but have decided to make the word NEXT my word.  We need to continue to focus on what's next for our customers and this industry.  We can't be complacent with what we have.  We must continue to stay in tune with where our customers and the industry are headed so that we can be there to assist them in whatever comes NEXT.
I'm very thankful for the hard work our staff put into making this a great show; both those at the show and all those that continued to make us successful back at the office.  Nice work.
I am also very thankful to be part of an industry that allows me to use the gifts that God has given me to help solve problems with software and keep this industry moving forward, all while being able to enjoy and work with the great products our customers produce."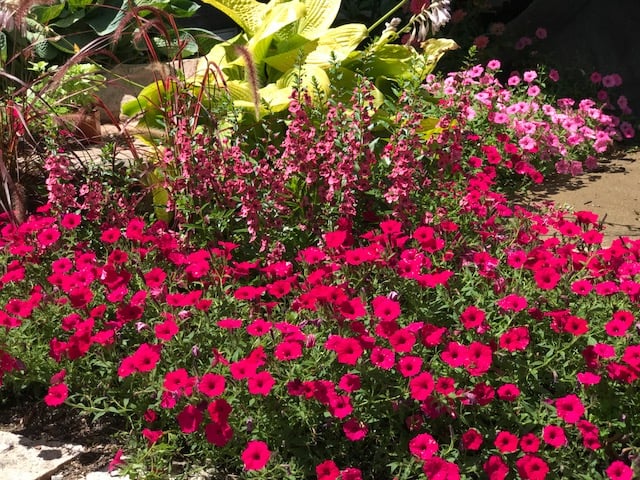 These are just some of the Proven Winners flowers that John has planted around his home!